Senior Consultant Dermatologist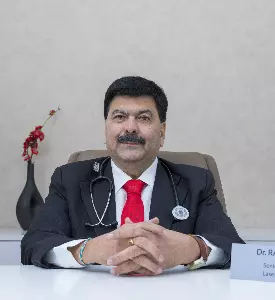 Dr. V.Ramesh has been dedicatedly serving the skin , hair and cosmetic needs of population at Warangal, and its surrounding areas in the state of Telangana and Andhra Pradesh for the past 26 years. So now to give his services to the people at Hyderabad and also demand from them he is coming up with his new full-fledged centre at Hyderabad.
He finished his M.B.B.S from KAKATIYA MEDICAL COLLEGE, WARANGAL in 1984 and MD Dermatology in the year 1990 from KAKATIYA MEDICAL COLLEGE, WARANGAL. He is a Senior Consultant Dermatologist, Laser and from Warangal. He was the President of the Indian Association of Dermatologists, Venereologists and Leprologists (IADVL) in the year 2007.
– INTERNATIONAL ACADEMY OF COSMETIC DERMATOLOGY
– MELBOURN
– EADV SYMPOSIUM TURKEY
– ASIAN CONGRESS OF DERMATOLOGY-SEOUL
– EADV- 2009- BERLIN, EADV- 2010- SWEDEN, EADV- AMSTERDAM
– INTERNATIONAL CONFERENCE OF COSMETIC DERMATOLOGY – LAS VEGAS
– EADV SWEDEN
– WORLD CONGRESS OF DERMATOLOGY – ARGENTINA
– WORLD CONGRESS – MEXICO
– WORLD CONGRESS OF DERMATOLOGY – USA
– EADV – DENMARK
– AWARDED TRAVEL GRANT FOR OUTSTANDING PAPER PRESENTATION AT ASIAN DERMATOLOGY CONGRESS – SEOUL (2008)
– FALICITATED BY DEPUTY CHIEF MINISTER, Dr.RAJAIAH GARU, FOR FREE SERVICES RENDERED TO PHYSICALLY CHALLENGED PEOPLE FOR 24 YEARS ON INTERNATIONAL DAY OF PHYSICALLY DISABLED ON DEC.3 2014
– CHAIRED IN MANY OF THE IADVL NATIONAL AND STATE CONFERENCES
– IADVL – A.P. STATE PRESIDENT-2007